a chapter in Layden's book focuses on Joe Tiller
and the emergence of the one-back spread, and specifically one play, the "bubble screen."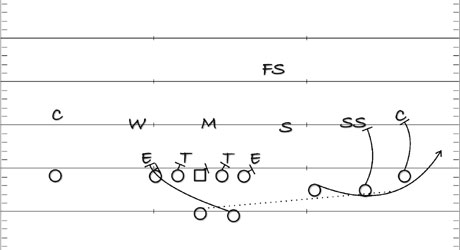 This play was gold against teams with heavy linebackers accustomed to stopping the run. Layden claims (via Tiller) that the first time this play was ever run (by any team, anywhere) was in his second game at Purdue, versus Notre Dame in 1997. Holding onto a narrow lead, Purdue faced third and one, and instead of running Alstott up the gut, they bubbled it out to Vinny Sutherland who went 30 yards.
Surely Tiller's claim cannot be accurate. Can it?
I honestly don't know
He says he invented the play, which may be entirely true, given Tiller's deep roots in the spread (going back to working with Dennis Erickson and Jack Elway early in his career).
some preliminary research would indicate Tiller is wrong
The bubble screen was essentially created by Don Read when he was coach of the Montana Grizzlies. Lou Holtz, head coach of the Notre Dame Fighting Irish, brought the play into prominence after calling Read and asking for the play.
http://en.wikipedia.org/wiki/Screen_pass
Perhaps the particular formation used by Tiller was original, but the concept was clearly not.
On the other hand
And I am going by memory here (which if you tell me is faulty I will accept and blame alcohol for the faultiness), but wasn't Lou's bubble screen (which presumably would have been taken from that Montana dude) one where the receiver came from the outside in and caught the pass either between the tackles or just outside the tackles? In the diagram of Tiller's screen, the receiver is either stationary or moving away from the tackle box. If my memory is correct, then I think Tiller has a point -- having the screen move away from the traditional blockers and out toward the sideline where the other two receivers were blocking downfield was a big change and did cause pressure on big linebackers who were not used to getting out in space.
Many coaches label them
differently, and they are certainly different plays.
The play Greg is referring to is often called a Rocket screen, named for you-know-who. Obviously many coaches call it different things. But it is thrown to an outside WR ducking inside, underneath the downfield blocks by the OL, TE and/or slot receivers. We all remember Lou running this play.
The play diagrammed and credited to Tiller is what most refer to as a bubble screen. It's an inside WR bubbling to the outside, with only one or two outside WR's as blockers. Whether or not it was created by Tiller, I don't know. But he certainly helped to introduce to the masses either way.
Obviously both plays require the receiver to catch the ball at or behind the LOS, which allows the blockers to engage the defenders downfield while the ball is in the air. Next time you watch a game, notice how many times this little rule is broken. It rarely gets called, so offenses have been bending the rule a little more year after year.
It's now appropriate to compare it to a SS or 2nd baseman touching the bag when turning a double play. If it's close, they let it go.
The play was used by Rusty Russell
who coached in Texas high school in the late '20's and early '30's. It was just like the bubble screen of today.
and by "close" you mean "he can see the bag"
Exactly
It's usually not on the bubble, those are still normally completed legally. But some of those rocket screens aren't even close anymore.
When I'm coaching offense I think it's fine. When I'm coaching defense I think it's a travesty. My hypocrisy knows no bounds...
It's a nocturne, you know...
I am contractually obligated to reply
I'm you're huckleberry...
I was just funnin' about.
Hell, I bet you've got a lot of friends....
I don't.
hehehehehehe
What a great flick.
Yea, it ain't bad by a long shot.
He's down by the creek. Walking on water.