playing surface map updated
I updated the list of stadia & playing surfaces and plugged them into this thing called "batchgeo", which puts out a google map. Link to map:
http://batchgeo.com/map/3390a8519ee2ca00cc8ed5d8a0b507dd
* I divided the playing surfaces into three categories: Grass, Field Turf, and Other Artificial (Astroturf, Astroplay, Sportexe, etc). You can use the grouping filter at the bottom to adjust the selection.
* Click on a marker to display info about the stadium.
* Prior to this year, Grass and Field Turf were tied at 50 stadiums apiece. ND going to field turf tips the scales.
* You can scroll down on that web page to get the full set of data.
Is there an option for a large brown area of fake dirt?
I'd like the turf to stay true to the ND experience.
Just put a list together today
For something I'm working on. It's not a fancy map though.
Do we know which company is going to do the Stadium? Was the new surface in the Loftus Center FieldTurf? Last I knew the 2 outdoor surfaces were FieldTurf and the indoor surface was Prestige SportsGrass.
Are we going to switch the 3rd outdoor field from grass to turf now?
ARTIFICIAL:
Installing New Synthetic Surface for 2014: Notre Dame, New Mexico State
FieldTurf: Air Force, Army, Arizona, Ball State, Boise State, Boston College, Bowling Green, Central Michigan, Colorado State, Eastern Michigan, Florida International, Fresno State, Georgia State, Illinois, Indiana, Iowa, Kansas, Kent State, Louisiana Tech, Louisville, Marshall, Maryland, Miami (Ohio), Michigan, Minnesota, Missouri, Navy, Nebraska, Nevada, New Mexico, Northern Illinois, Ohio, Ohio State, Ole Miss, Oregon, Oregon State, Rice, Rutgers, SMU, San Jose State, South Alabama, Syracuse, Texas, Texas State, Texas Tech, Toledo, Tulsa, UAB, UMass, Utah, Wake Forest, Western Kentucky, Washington, Washington State, West Virginia, Western Michigan, Wisconsin, Wyoming
SportsField: University of Texas-San Antonio
UBU Sports Speed: Cincinnati, Hawaii, Tulane
PowerBlade HP: Arkansas, Middle Tennessee State, North Texas, Vanderbilt
GameDayGrass: Kansas State
Desso Turf: Oklahoma State
ProGrass: Akron, Louisiana-Lafayette, Troy
Matrix Turf: California
ProGreen: Arkansas State
Prestige SportsGrass: Baylor
RealGrass Pro: Idaho
AstroTurf: Memphis, UTEP, Utah State
ProPlay: Louisiana-Monroe
Sports EXE Momentum: Buffalo, Southern Miss
DURAPlay: UNLV
NATURAL:
Grass: Alabama, Arizona State, Auburn, BYU, Colorado, Clemson, Duke, East Carolina, Florida, Florida Atlantic, Florida State, Georgia, Georgia Tech, Houston, Iowa State, Kentucky, LSU, Miami, Michigan State, Miss State, NC State, North Carolina, Northwestern, Oklahoma, Penn State, Pittsburgh, Purdue, San Diego State, South Carolina, Stanford, TCU, Temple, Tennessee, Texas A&M, UCLA, UCF, USC, USF, UConn, Virginia, Virginia Tech
---
-Ya boy Jackmerius Tacktheritrix
Which turf fields do people like the look of?
It might be good to see if the more attractive turf fields out there are made by one particular company.
Do you guys actually notice the shade of green during
game action? It's one thing to compare and contrast stills on a computer and that's fine. But can I have a show of hands for whom this impacts the game-watching experience?
I'm simply curious because my eye stops at the action, unless the field looks like Omaha Beach or something. And I certainly don't notice Fifty Shades of Green.
Not really, but I do notice it at times.
Particularly on very bright fields like Oregon.
Though I understand the decision, I do think it's a bit of a shame that we're going to turf, and I just want it to look as much like grass as possible, even though I know it's fake.
Didn't they announce the FieldTurf brand name already?
Re-reading the press release
They are using "FieldTurf" so I think so.
---
-Ya boy Jackmerius Tacktheritrix
So here's some fields using FieldTurf
http://www.fieldturf.com/en/sports/football
New England
New York Giants
Missouri
Are we sure UNC isn't grass?
I've looked in a few places and I think it's grass.
[ No text ]
---
"F--- everyone who isn't us."
#Team128
I was going by the FieldTurf website, but you may be right
Probably they have FieldTurf practice fields.
Kenan Memorial has a grass surface from everything I can find.
I like the faded green, non-alternating pattern look.
UNC's is my favorite of the group you posted. I also like Seattle's field: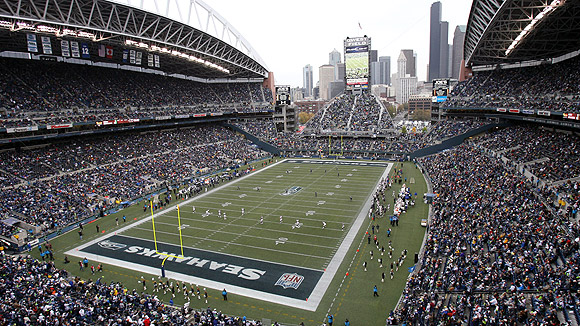 Really?
I'm curious as to why you prefer that look. I think Seattle's field looks awfully 70's style Astro Turf-y to me.
I would think for ND fans the deeper the green the better, with the alternating pattern being supported.
As long as you don't make the two shades too radically different (like Nebraska) the alternating pattern looks a lot more professional, I think.
---
-Ya boy Jackmerius Tacktheritrix
I hope they find a happy medium
I like the alternating look, but it often features too much contrast in artificial surfaces. Oregon and Nebraska come to mind.
I also think the greens are often too saturated.
I think Kinnick Stadium (Iowa) is pretty good, as is (shudders) Michigan.
I think the Superdome turf looks terrible
It looks it is UBU Sports Speed
Honestly
I think the field paint and amount of sunlight/lighting are the biggest factors.
AT&T always gets a bad wrap with their Matrix turf. But I think a lot of that has to do with the stadium's funky lighting and the fact that the Cowboys don't exactly have vibrant colors. It all mixes and looks dull. Cal uses the same turf and it looks better out in the sun with their colors.
Michigan's has been criticized, because they're Michigan, but also because I think the yellow lettering they use looks worn and dirty at times.
---
-Ya boy Jackmerius Tacktheritrix
Michigan's field looks very shiny and plastic-y to me
Examples
Picture 1 is dominated by yellow. It's everywhere. And our shiny helmets and white uniforms don't help the turf look any less plastic-y as you say.
Same game, except there's a little less yellow without the end zone and the field looks a little bit darker and a fuller green.
Now, a different game against Nebraska. Few people in the crowd are in yellow and the Huskers' red helps the field look fuller and dark.
If they switched to blue lettering with yellow outline their field would look less plastic and shiny.
---
-Ya boy Jackmerius Tacktheritrix
One good thing about the last picture
It looks shitty
Not just the fake "striping", but the fact that you can see the "weave" (I don't know what else to call it) that runs sideline to sideline. It looks totally unnatural.
I hope our does neither of those things.
Unfortunately I think the linear pattern is inevitable.
There are seams every so often, plus I think they basically "comb" the turf to even out the infill, and that's what creates those linear patterns.
I don't see it
Be prepared to be disappointed, I guess.
If you stripped away the UM logos it would look no different than our FieldTurf practice fields, which look just fine.
---
-Ya boy Jackmerius Tacktheritrix
You don't see the lines? The things that look like seams?
Look at your first picture between the 10 and the 5. It looks like a goddamn bar code. I am really hoping that ours looks more uniform than that. Hopefully we can do better than 150 thread count.
I laughed. This was funny and true.
It's like a printer running out of ink.
Then they pop in a new cartridge. A rainbow of various greens.
I see it now
Just re-watched the highlights from the game too. Looks like they put the lacrosse goal right at the 10 (you still see the outline) which would help explain why that area looks so thinned out.
---
-Ya boy Jackmerius Tacktheritrix
I don't go to games and don't care
But if ND's field looks like these pictures of Michigan's field, ND's field will look faker and cheaper than a porn star's titties.
That would not be a good look.
I've been told.
---
"F--- everyone who isn't us."
#Team128
I think our practice fields look great...
in pictures, video and in person. Kind of why I've never had much issue with field turf in terms of aesthetics.
If we are polling fans, I assume that the fields that
feature consistent BCS contenders will receive the most positive feedback regarding the field aesthetic.
If we can get through North Carolina at 6-0, which is very doable, we are never going to hear a word about this topic ever again.
If we lose to Michigan, EVERYTHING will suck.
We REALLY have a shot at some serious momentum...
Coming out of September. Given the...
* high talent/low experience nature of this squad,
* Kelly being
9-7 in September
13-3 in October (including 7 in a row and 11-1 since '11)
12-3 in November
....and what is to come in October and November, that's huge opportunity.
BEAT FUCKING MICHIGAN
We will play 8 games on turf next year
6 at home, plus Indianapolis and the Meadowlands. Florida State, Arizona State, Southern Cal, and the Redskins' stadium all have grass.