Serving up some offensive balance pie (charts)
From this morning at HLS: http://www.herloyalsons.com/blog/2013/11/20/notre-dame-offense-checking-balance-brian-k...
The initial genesis of this was to address what I felt was an unfair criticism of Rees in regards to audibles and their effect on balance. This led me down a rabbit whole of looking at the offense as a whole.
Below are the pie charts that resulted from the overview of the entire Brian Kelly era to this point. I didn't just do a run/pass balance, but tried to look at how much Kelly asks his QBs do to. Therefore, I created a third category of "QB Rushing Attempts" that included all QB called runs, sacks, and scrambles.
Here are the results starting with this season and tracing back to 2010. For these results all plays from all QBs were used to give an overall picture:
Conclusions:
* Kelly's offense is very QB-centric, not so much pass-happy. The offense builds around the QB's skillset and what he can do
* Over his time here, he has started to lean on his running backs to carry more of the load.
* This season's balance can either be attributed to Martin taking the reigns or Kelly realizing Tommy's limitations.
* I think results like what we saw in 2012 and 2010 is what Kelly would really like to do. Have a dual-threat QB that will handle the ball around 60-65% of the time.
---
Her Loyal Sons | Twitter
This has turned into one of the weirder TPG subthreads
Pie is preferable to bars
I mean seriously, who in their right mind prefers this:
to this:
?
It's like preferring involuntary servitude under a king to freedom.
only if you've never had these
That is such an outstanding movie.
Lemmon and Curtis made 2 terrific films together
They were both fantastic in Some Like it Hot, but Lemmon stole the show in The Great Race.
And they revealed themselves to be Platonists
How much variance is there per game?
Can we grossly mis-guess what the winning formula should look like?
This is something I'm thinking about for the offseason
Because I don't think it's as simple as breaking it down by game.
Yeah, we definitely pass more in losses, but that's a "no shit Sherlock" fact to me. If we are down, we are airing it out to catch up.
The variance that I am interested in will be to break down the play calling according to the score, situation (HI RED ZONE!), and the QB in at the time. There are probably some other factors I could put in as well, but I'll have to think on it a bit more to create some cohesive charts.
Overall though, and especially this season, you really don't see too many huge swings in game planning on a game-by-game basis.
---
Her Loyal Sons | Twitter
I kind of started on this...
but didn't make it far yet. Once you get to 3 or more dimensions, there are only a few types of ways to visualize that information, other than tables. Specifically, I started looking at point differential, quarters elapsed, and run/pass, not even factoring in down and distance yet. It would require some more thought to get somewhere with it before I actually try to do anything else with it.
Further, at least in the data I am working with now, the "Clock" field is only about 1/3 populated, for some reason, so it's not easy to say where in the game you are. I would need to clean that up and make a best guess based on the start/end time of the drive or something.
cfbstats has data by quarter and score
Although you could probably produce more nuanced data by looking at play-by-play reports.
I want to go even deeper than that
Basically, it would be a play charting effort, but not to the level that Jay and other have done before. It would be much more high level than that.
There's a lot of other things that I want to check out like empty set use and length of passing attempts with CFBstats.com doesn't have.
Related: that site and their data dump downloads are simply amazing.
---
Her Loyal Sons | Twitter
Currently working on a series
That looks at the running game. Kind of similar to this stuff.
---
-Ya boy Jackmerius Tacktheritrix
Whatever you say DiCaprio
Thread hijack
How much of the #runthedamnball,kelly is a product of Weis' lack of success at ND. And not lack of success with the offense but winning?
Seemed to me that fans weren't nearly as adamant that we were a "pass-happy" offense with Quinn and Clausen at the helm, throwing to Stovall, Samardzija, Fasano, Carlson, Tate, Rudolph, and Floyd.
Or maybe there was a quiet groundswell that preferred to run the ball, but I just don't recall it being a huge criticism. That could have also been because our running backs weren't as talented as those in the Kelly era.
Am I just mis-remembering how Weis' tenure played out? My other sneaking suspicion is that people were too pissed off with the defense that we didn't have enough time to devote to bitching about the style of the offense.
There was a lot of bitching about Weis passing too much
It started in late 2007, since we actually started to have some success running the ball (because we were playing service academies) but we still gave up tons of sacks. People wanted to see 2nd and 8, not 2nd and 17.
I remember getting in a drawn out fight on another site with someone who said Samardzija shouldn't be considered among the great ND WRs of all time because all he did was benefit from Weis passing all the time.
What I found funny was that we went from #throwthedamnballBob to #runthedamnballCharlie/Brian, with only a short stop on #runningsomethingotherthantunnelscreensTy.
You misspelled "constant"
You left out #throwthedamnballLou
I think it was technically #throwittotheTElou
What I heard most was...
#doanythingbutrunitupthemiddleeverytimeLou
I think it's a longing for the old days
Because the run-heavy Holtz attack is where we won the last title, every championship team ran the damn ball, etc.
As far as Weis goes, I don't remember as much "run the damn ball" until the end. Which is actually kind of hilarious considering Weis passed monumentally more than Kelly has to this point.
---
Her Loyal Sons | Twitter
I do remember constant bitching
about Fades to the corner of the endzone; even though they worked a good amount of the time
Now you guys are just needling me
EDIT: I don't think the bars do too much for you here
tex is discussing proportional share within a whole. I think pie charts are much better. Now, perhaps the 3D element is not to highbrow tastes, and perhaps he could have been edgier (ring charts, anyone?), but damn if you can't do a lot with a pie chart.
(EDIT: Whoops, had the wrong image up before)
actually, I think an interesting next step would have been to adjust the distinct circle sizes to reflect total yards, or PPG, or some such.
Yes, because humans are so good at judging
the relative sizes of circular areas. Wait, they're terrible at it. Don't make me geek out on this; I have too much work to do. ("Somebody was wrong on the internet today.")
I thought the point of looking at it over a period of 4 years was to detect a trend or yearly variance, if any existed--to "tell a story", one might say. Unless it wasn't clear that each section in my trellis chart added up 100%, the bar version is superior to four pies. (I provided an alternate below, if that was the case.) Regardless of the literature/research/jihad on the topic of pie charts, it's plainly easier to interpret the data.
I would have just used a simple line graph, but wanted to be able to group both types of running plays. I could have also unstacked the bars and eliminated the legend entirely, but then wouldn't have been able to group the run types.
There are very few instances when a pie chart is superior to a horizontal bar graph. If bar graphs themselves weren't a common and easy to understand chart type, I could see "defaulting" to pies for the sake of people's comfort, but that's just not the case. Pie charts should be the exception, not the rule, and if you don't know the exceptions, don't use them. You'll be right more often than wrong.
This is my favorite paper on the topic. I think you would be hard-pressed to read it and not agree with its conclusions. It even has your stupid chart from The Statistical Breviary (Playfair) in it.
http://www.perceptualedge.com/articles/08-21-07.pdf
Nothing personal Tex. This has become a referendum on data visualization, not your fine post, which found to be very interesting. Thanks.
First of all, nobody hates on the Breviary while I'm around
Second of all, yes, I think this most recent visual is a O* improvement. The objective in this scenario is to make a comparison between several different compositions within the same category.
"Telling a Story" is something of a red herring, because the data itself is only of limited value in explaining the scenario: if a viewer didn't have a wealth of contextual and background knowledge they would have no use for any visual here, no matter how strong. Basically, the data here complement the argument for the trend, rather than reveal it. We already know the story.
My argument in favor of Tex's pie chart vs. your boner races was that they intuited that the primary concern was mode share. The successive 100% bars in the post above do an even better job, I would say. Not necessarily because they "tell a story," but because they allow for seamless and easy comparison.
Also, I just read the last bit in the perceptual edge piece you linked. The argument at the end "The Secret Strength of Pies" I would say strongly supports Tex's initial decision over forcing the viewer to do visual arithmetic in their head.

O = pie chart showing 100%
You are misapplying what he said.
If there was only one pie, I can see the argument (this is still a rarity, given the common usage of pies), but introducing the Year dimension makes it an apples and oranges comparison. What Few states in that section of the article does not apply here, let alone "strongly support" it. Here's a more appropriate example from his site: http://www.perceptualedge.com/example7.php
The bars graphs also make it more obvious how the values compare to 50%. It's a veritable tug of war between rushing plays and passing plays, GD it. You can't do that with a pie chart--there is no such axis to play with.
It's silly to say that because you still need supporting text to tell a full story, or you already know the story, it doesn't matter if you use an inferior visualization design. Why include it at all if it isn't really adding anything? That sounds like half-assed government talk, and I don't think even you possibly believe your second paragraph. "...the data itself is only of limited value in explaining the scenario..." The scenario exists only as a result of analyzing data! The text explains the data, not the other way around.
I also agree that this iteration is better/more efficient. You don't always get them right on the first try.
"The scenario exists only as a result of analyzing data!"
The Polo Grounds, ladies and gentlemen!
I'm not taking anything personal
I made a decision and I'm fine with it.
I actually considered doing a similar bar chart like you had; however, I wanted to split each season up and comment individually and the bar chart made a lot less sense in that instance.
I figured most people are looking for the 50/50 split or the immediate difference thereof, which I think pie demonstrates just fine.
I totally agree with the circular judgement thing though. That's why I labeled the data as a visual aid. But like I said, the main goal was to visualize, "hey this is more than half".
When I do the additional breakdowns in the offseason, I'll likely have to move away from the pie for all the reasons you state, plus I think the amount of data comparisons would cause a serious issue of having about 20 pie charts on the page which is dumb.
---
Her Loyal Sons | Twitter
hey, this looks like
http://www.bluegraysky.com/forum/index.php?mode=thread&id=40047
To help illustrate the distribution of past Kelly offenses, here's a handy table & chart. Note the 2010 ND column, especially the low QB rush percentages as compared to previous years.
				2004	2005	2006	2007	2008	2009	2010
				CMU	CMU	CMU	CINC	CINC	CINC	ND
Other Rushes			324	277	271	359	355	273	294
QB Rushes			114	135	122	94	69	73	52
Pass Attempts			383	442	457	485	496	477	467
% QB Rushes/All Rushes		26%	33%	31%	21%	16%	21%	15%
% QB Rushes/Total Offense	14%	16%	14%	10%	8%	9%	6%

And a breakdown by %s:
Son of a bitch
I wish I had done a search for this last night.
I was thinking about comparing past Kelly offenses, but I said to hell with it and went to bed.
Damn, damn, damn, DAMN!
---
Her Loyal Sons | Twitter
There's a lot of good stuff in this thread
I, for one, am surprised to know that we actually have used the RBs more this year than at any other point in the Kelly Era. I think an interesting, but somewhat different, exercise might be to look at "Which Position Groups Are We Using on Offense." E.g., you would lump all RB touches in together (carries and receptions), TE & WR would be complimentary shades of the same color (I'm thinking gold), Qb runs, etc.
The bars have done a lot for me
also, the jihad on pie charts overreaches at times
When you're sifting through data in a highly nuanced way, pie charts probably aren't very useful (especially when pie charts leave out 0 value slices entirely). But in conveying a general impression with two or three variables? Bring on the pie.
I'll admit to laziness
I really wanted to do a more detailed breakdown with the pie separated into different pieces depending on QB, RB, Play type, etc.
However, I determined that I didn't want to fire up Adobe Illustrator and kept it simple. The offseason is long and I'll revisit then.
So yay laziness and Google Docs!
---
Her Loyal Sons | Twitter
Nice approximation of our school colors.
I'd have gone with shamrock green for QB rushes but whatever.
"Make yours like mine."
Are sacks and scrambles "run attempts"
In this case, I do think it is worthwhile to distinguish between these and called QB runs. It is doubtful that any of the Tommy Rees 2013 'attempts' were truly rushing attempts rather than failed passing attempts. I would expect the number to be significantly different with Golson.
Yes
And I am going to revisit this again in the offseason and split it out when I have more time.
I decided the main question this post should answer is "how much does Kelly depend on his QB?" rather than "what's the run/pass ratio?"
I think the former question goes a longer way into understanding how Kelly and his offensive gameplan works.
---
Her Loyal Sons | Twitter
I think you're dead-on balls right
and I think the look back at what Kelly did with different quarterbacks is explicatory in answering the Rees question. It's obvious that Kelly has made huge adjustments to accommodate Tommy's limited skillset.
data here was adjusted for sacks
good stuff. here's some historical context
This was only through Kelly's first year at ND, but I suspect years 2 & 4 looked very similar.
http://www.bluegraysky.com/forum/index.php?id=54151
The key thing to look at is the difference between Kelly at previous stops versus Kelly at ND.
What is the difference? Thomas F. Rees.
full table
http://www.bluegraysky.com/forum/index.php?id=79029
This needs to be updated with 2012-13 data, but at the time...
by my count, Rees set a BK team record this year
by Jay, San Diego, Friday, December 02, 2011
"Lowest ratio of rushes to passes for a quarterback": 6.5%. That's an alltime BK team low as far as I can tell.
That's where 2012 stood out so much
The jump in QB rushing attempts was incredible. Even I didn't except Golson's total to be 94, but I guess it's just one of those things you don't notice until you look at it.
---
Her Loyal Sons | Twitter
Please force 0 scaling on the Y-axis
I did what you asked me
It didn't change a goddam thing.
P.S. Tufte is a kook. I've been to his seminar. It was like a cult rally.
I agree he's a kook
but his principles (the Lie Factor, the Data-Ink Ratio) are sound, even if you don't follow them to umpteenth degree, as he would do. I liked The Visual Display of Quantitative Information, but could have easily lived without his other books.
I think Stephen Few is a better, more practical guy to read for most people in the business world. I frequently recommend him to our clients--especially Show Me the Numbers and Now You See It. I love Information Dashboard Design, too, but that is a little more specific to what I do.
As far as the zero-based scaling, your chart is exaggerating the difference between prior to ND and ND 2010, especially the second grouping. The red bar should be about half the size of the blue bar, based on the actual values, but it appears to be maybe a sixth the size of it. (That rule only applies to using bars for data series, not lines or symbols.)
I just emailed you about this.
Not as data intensive, but I've found
Kevin Lynch's "Image of the City" to be a really helpful primer on how to think about visualization:
http://www.amazon.com/Image-Harvard-MIT-Center-Studies-Series/dp/0262620014
Very helpful for understanding the relationship between visual methodology and the desired reaction from the viewer. Also helps driving home the point that numbers aren't the only data that can lead to a strong visualization. For example: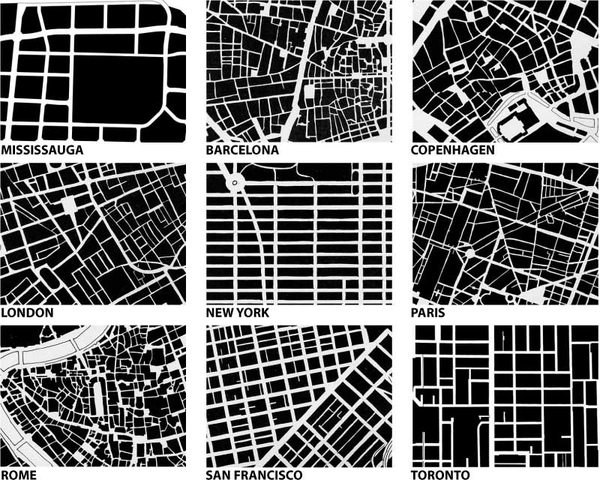 A less-nice version
I have never been more lost & frustrated
than I have trying to get to the Boston airport from Cambridge during Big Dig bullshit. At one point I stopped, pulled over, and screamed expletives at the top of my lungs.
No sobbing tears of rage?
End of a 14-hour drive, at night, in a moving truck
trying to figure out how the fuck to get around Boston. Fuck that town. Even Google maps can't help you there.
I tell our family back there...
...people in that town drive like idiots because the street layout makes no sense. People in LA drive like idiots because they're idiots.
Gotta leave for home now, they're anticipating 0.000001" of rain this afternoon and I want to miss traffic.
I once got Boston directions that included
"turn straight at the intersection" -- and that was an accurate description.
I want a poster of that for my office
Interesting choice for Barcelona
If he had chosen a different part of the city, it would look a lot like New York or San Francisco.
Also interesting are the versions where vacant/parking lots are shown as white to show building density, rather than just block density/pattern.
Lynch's work is really cool.
I think his books are really pretty
and I have a couple of them in our coffee table stack.
I had updated the embedded chart -- hit refresh.
And if Notre Dame has the best WR in ND history
Brian Kelly will throw more.