Purdue's last TD
Here's the presnap read:
How the receivers released:
How our coverage ended up:
Live play here:
http://www.dailymotion.com/video/x14qgr1_2013-notre-dame-vs-purdue-4th-quarter_sport&am...
Herbie's analysis replay here:
http://www.dailymotion.com/video/x14qgr1_2013-notre-dame-vs-purdue-4th-quarter_sport&am...
--
I would be surprised if
Fox was supposed to turn around like that. I would guess that Fox was supposed to drop with the inside receiver and pass him into Collinsworth's zone. This obviously would've created a window between zones for Henry to hit that inside receiver, but it would've been tiny. As such, I would further guess that Fox was supposed to be free to defend the pass to the eventual target.
this is without looking at the video, so I could be totally wrong.
EDIT: Further, it looks like Russell has deep 1/3rd to his right side. As Henry winds up, you can see him start to move right to guard the flat man's wheel route (nice job Councell, btw). Poor job of reading the QBs eyes, but I think it's #48 at fault here.
actually I think they picked on Russell (and/or AC)
If the defense really was in a "box" call versus a bunch, Councell picked up the "first out" properly, Fox picked up the "first in", Collinsworth stayed over the top looking for "next in". But instead of breaking in or out, 84 just ran straight and sat. Instead of waiting for a corner break, Russell needs to be johnny on the spot and react to the stop once he realizes nobody is breaking to his zone.
Busco can probably set me straight on this one.
That still wouldn't explain Fox's posture
if the guy Fox is guarding does anything other than continue to run in a straight line he will easily get open. I have no idea what our checks are against a bunch like that (we could have stayed in cover 3 with the LBs in underneath zones and it wouldn't have been an awful call), but my instinct is to blame the guy who is obviously doing something wrong, and that's Fox.
No.
As a LB, your job is to get into the receiver's hip pocket, and lead him to your defensive help -- in this case it's actually the end line. If he breaks, you break with him and listen for the "ball" call.
Fox was fine, did what he was supposed to in a pattern match situation (which it was against the bunch formation)
---
Just run 4 verts
Happy to take your word for it
All I'll say is that it seems like odd technique for 4th and 7 at the goal line
How much pattern-matching are we doing this year and
one way to defend the "bunch"
The "box" call: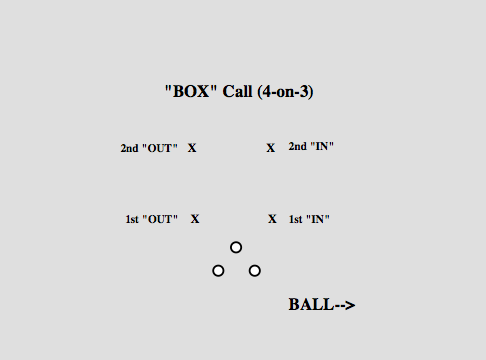 Create a "box" (or four corners). The bottom two defenders will play the first inside and outside breaking route with the top two defenders (think DBs) playing the second inside and outside breaking routes. With a 4-on-3 look there will be one defensive player that is "free," and that allows him to zone up or jump one of the routes.
http://www.nationalfootballpost.com/How-do-you-defend-the-bunch-look-8798.html
Think this is what was called
Ideally, both Russell and Collinsworth would have been crashing onto the last man. Given the inside receiver ran directly at Collinsworth, can't blame him for that. If anyone is at fault its KVR, but he was doing his job by keeping outside leverage -- just not close enough to make a play on it.
I would assume the guy was on an option route and just sat down, and would have broken outside if KVR was close enough to make a play at the end of his stem.
---
Just run 4 verts
But someone screwed up for #84 to be that open, even if
they all had the "correct" coverage, right? So was it KVR?
Think I agree with you
Fox seems out of position. My guess is that he probably also had responsibility for the QB in the case of a scramble but was way out of position for that as well.
Ignorant layman that I am, I blamed Russell.
Is that not his responsibility?
I blamed Councell for chasing the outside guy.