a little grist for the punt return discussion
"Mathlete" at mgoblog ran some numbers on fumbles / fumble recoveries:
http://mgoblog.com/content/maximizing-your-fumble-luck
Bullet points:
* Sacks produce fumble at an obscene rate compared to any other play
* Don't skimp on the fundamentals, poor snaps and hand-offs are a major source of fumbles
* Positive plays are good for the offense, getting past the line of scrimmage greatly reduces the chance that a fumble occurs, but increases the defense's chances at a recovery if one is forced
* Hitting ball carriers behind the line of scrimmage is a good way for a defense to generate fumbles
* HOLD ON TO THE DAMN BALL! Punt returns are the most likely play to result in a lost fumble.
* Not all fumbles are created equally, defenses recover nearly 70% of fumbles that are forced and only 45% when they are not.
* Quarterbacks are fumble prone but their teams are better at recovering them than other players' fumbles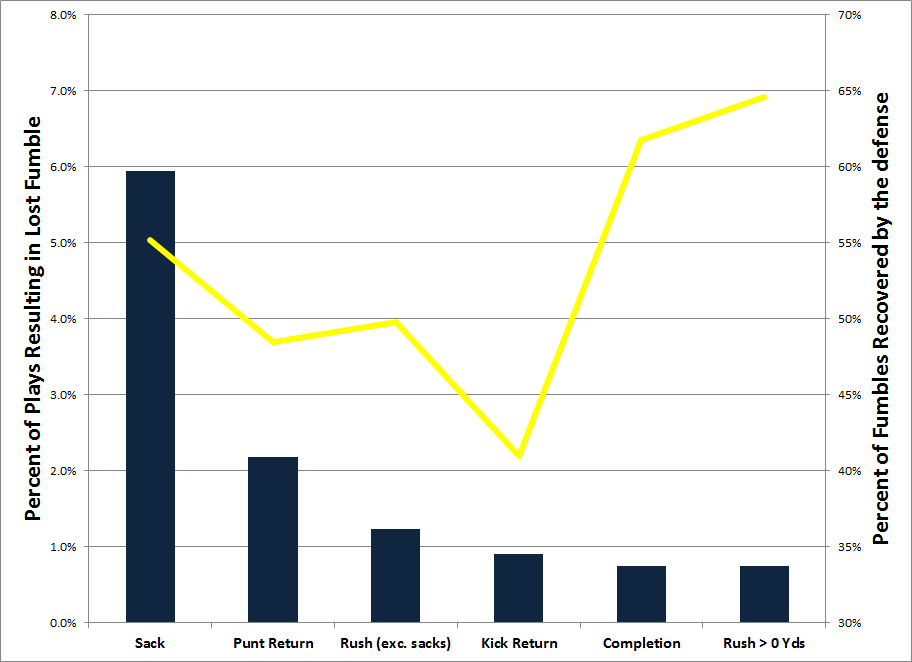 locked
---
a little grist for the punt return discussion

- Jay, 2013-08-05, 08:30